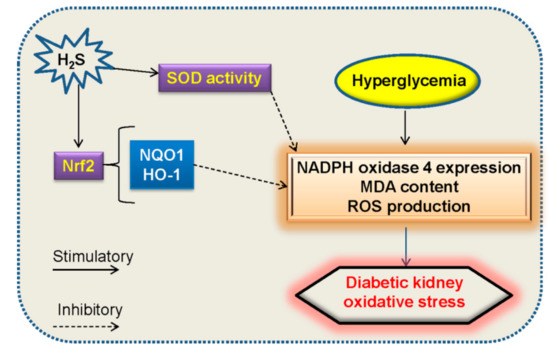 News source: https://www.mdpi.com/1420-3049/24/15/2857
We selected for you this excellent paper published by Hai-Jian Sun this year about "Hydrogen Sulfide: Recent Progression and Perspectives for the Treatment of Diabetic Nephropathy".
Diabetic kidney disease develops in approximately 40% of diabetic patients and is a major cause of chronic kidney diseases (CKD) and end stage kidney disease (ESKD) worldwide. Hydrogen sulfide (H2S), the third gasotransmitter after nitric oxide (NO) and carbon monoxide (CO), is synthesized in nearly all organs, including the kidney. Though studies on H2S regulation of renal physiology and pathophysiology are still in its infancy, emerging evidence shows that H2S production by renal cells is reduced under disease states and H2S donors ameliorate kidney injury. Specifically, aberrant H2S level is implicated in various renal pathological conditions including diabetic nephropathy. This review presents the roles of H2S in diabetic renal disease and the underlying mechanisms for the protective effects of H2S against diabetic renal damage. H2S may serve as fundamental strategies to treat diabetic kidney disease. These H2S treatment modalities include precursors for H2S synthesis, H2S donors, and natural plant-derived compounds. Despite accumulating evidence from experimental studies suggests the potential role of the H2S signaling pathway in the treatment of diabetic nephropathy, these results need further clinical translation. Expanding understanding of H2S in the kidney may be vital to translate H2S to be a novel therapy for diabetic renal disease.
---
During the Paris Redox 2020 Congress, a specific session will be dedicated to H2S & Microbiota.
Media Center:
International Society of Antioxidants in Nutrition and Health
www.isanh.net